My oldest daughter is the creative one in our family.  She loves art and was super excited when she found out that I'd be reviewing Creating a Masterpiece for my next TOS review crew post.  This homeschool art curriculum is a comprehensive online art program for all levels, from beginners to advanced.  Our regular art lessons usually consisted of youtube searches for specific projects she wanted to create, but we found those lacking in formal instruction.
I'm happy to report that after several weeks of attempting various projects, Creating a Masterpiece is a must-have for any homeschooler.   We reviewed the
monthly plan
option.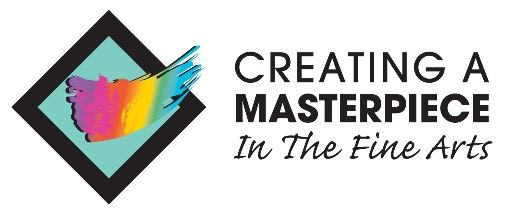 Creating a Masterpiece features easy to follow online tutorials given by Sharon Hofer. These projects use mediums such as watercolor paints, acrylics, charcoal, colored pencils, pastels, inks, and even more advanced techniques that you'll have to check out on their site!  One of my favorite things about the program is that when you log in, you're taken straight to your family's "dashboard".
The first project we tried was a beginner level project called "Lessons in Watercolor: Floral Medley." This first project was a bit of a loss because I used subpar materials. Whoops.
Learn from my mistakes and get the exact materials needed which I found on Amazon! These are clearly stated in each lesson, easy to find, but a bit more expensive than the typical Crayola products:
Supplies:
Watercolor set
Watercolor paper
Large flat 1" brush
1 medium flat brush ½"
1 pointed brush
Sponge
Household Items:
Paper towels
Bowl for water
Tray for colors
Sharon is a gifted artist and speaker, and my children were never confused as to what to do next.  I love that she emphasizes that each painting will be unique and it's ok if the final product doesn't look exactly like her's.  That's not often found in other lessons we've tried and has ended in frustration and discouragement.  That's not the case with Creating a Masterpiece!
Each lesson is broken down into manageable "bites" so if you don't have the entire time to devote to one entire lesson in a day, you can spread it out.  Since these are online videos, we were able to set our laptop up next to our work area and pause and rewind as needed.  It's self-paced, so there's no need to disrupt a classroom full of other children if your child needs to go over a technique again.
The next lesson we completed was "Lessons in Acrylic: Carribean Lighthouse".  Thankfully, I had all required materials on hand this time and it turned out much better:
This was quick and a very basic project that produced gorgeous results!
They've been working on other projects as well from the Impressionism Period.  Here is the birch trees background acrylic painting in progress:
Overall, we love the option of a monthly plan for Creating a Masterpiece's online art program.  It's perfect for setting aside an entire month for art or incorporating art into a unit study.  You can always use it for a month or two, cancel, and then re-up later in the year, or the next year as your child progresses.  This makes it affordable for almost anyone. The only aspect of the program that can get to be expensive is purchasing art supplies.  If you use coupons and look for sales, this will help, but truth be told, some art supplies can get pricey, especially if you're buying for multiple students.  This, however, isn't included in the cost of the program but I still believe is well worth the cost.  Sharon is patient, encouraging, and a true professional that knows how to work with artists of all ages.  It's like having a tutor come to your home and give step by step art instruction to your children, for a fraction of the cost!