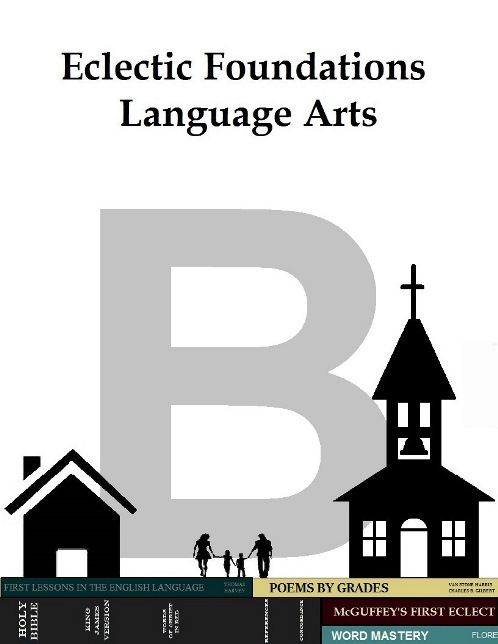 In the wonderful world of homeschool curriculum choices, it can be difficult to find something straightforward, easy to use, and that uses a time-tested method of learning.  That's just what I discovered when I had the opportunity to use
Eclectic Foundations
Language Arts Level B
with my youngest.
Why Eclectic Foundations?
Eclectic Foundations Language Arts is based on McGuffey lesson plans and emphasizes a Christian homeschooling focus by making use of old fashioned curriculum.  I found it easy to teach while incorporating every important part of a well-rounded language arts curriculum.  I didn't need to piece together many different programs or buy a bunch of expensive books. It's economical while proven to be historically effective.
What Does Level B Cover?
Eclectic Foundations Language Arts Level B builds on Level A by beginning cursive handwriting and introducing your child to poetry while emphasizing rhyming words.  It also covers phonics and basic grammar rules.  It is suitable for grades 1-2.  Making use of McGuffey's 1st eclectic reader (which is available digitally for free), the entire program is robust and has stood the test of time.
What Level Should I Choose?
I actually chose incorrectly for my daughter and should have started her out on Level C, but it's always nice to have a review of the basics every once in awhile because my daughter likes to see that she's mastered something.  She's a very left-brain logical thinker, so while Math & Science come naturally to her, I figured the review of a lower level of language arts wouldn't hurt.  Eclectic Foundations has a comprehensive explanation on which level would best suit your child(ren) here.
How Did We Use The Program?
We went through one lesson a day after our read aloud time.  In each lesson, you'll cover handwriting through copy work, reading (with comprehension), an introduction to poetry, Grammar, spelling rules, and decoding of words through phonics practice sheets, all in one tied-together package. Each week we had one review lesson that she completed each Saturday.
Eclectic Foundations has provided a complete overview of the first four weeks of Language Arts Level B here.
Would We Recommend This?
I wish I would have had this from the beginning.  As I said earlier, I feel that Level C would have better suited my 8-year-old, but a review is always beneficial.  I found it incredibly easy to use and the lessons went quickly and don't have any un-needed "busy time fillers". It didn't require me to come up with my own lesson plans, everything is laid out clearly. I also think my daughter enjoyed it primarily because it's in black and white, straightforward, and doesn't have distractable extras that pull her focus away from learning. I love the McGuffey readers and always strive to use Christian curriculum when possible.
You can purchase Eclectic Foundations Language Arts Level B as a physical product, or at a lower cost you can buy the pdf version and print the program yourself. We used the physical products and could not be more pleased with the quality.
If you'd like to learn more about Eclectic Foundations, be sure to follow them on Facebook.