We are studying American History this year in our homeschool so I was thrilled to be offered The Story of the Thirteen Colonies & the Great Republic Set and 200 Questions About American History Set from Memoria Press. Our review and thoughts are as follows.
Each set is very in-depth but easy to use and doesn't take too much time.  That's a must, in my opinion, to keep kids interested!
The Story of the Thirteen Colonies & The Great Republic includes a textbook (which reads more like a book), a student workbook, and a teacher's workbook which contains answers and tests. The student workbook also has various resources such as The Bill of Rights, handy maps, The Declaration of Independence, and more!  It's very convenient to have all of those in one place when studying history.
The other product we received was the 200 Questions About American History Set which includes 2 books (one for your student and one for you) and a large deck of flash cards.  The flash cards consist of 4 categories which are:
20 Notable Quotes
30 Dates & Events
44 U.S. Presidents
150 Drill Questions
The student workbook can be used instead of and with the flash cards because your student can write the answers in it.  This is ideal for portfolios if your state requires them.  The teacher's version is the same with the answers.
Here's what we did:
5 days a week we were able to finish 2-3 lessons each week.  My oldest would read aloud and then we'd all discuss the questions and answers and vocabulary together in the workbook.  Some days were dedicated to enrichment, which is included in the workbook.  These enrichment activities helped to cement the knowledge by writing on our timeline, locating places on the maps, and sometimes we'd do a short writing assignment.
After doing several other subjects, I'd circle back to history by using the flash card set.  I did a little preparation to find questions that were related to what we read earlier and this was helpful in knowing that they were retaining the information.
What we liked best:
We loved the way the textbook read more like a book.  It wasn't boring and didn't contain filler words, and was straight and to the point.  My daughter enjoyed the enrichment activities and it gave her the opportunity to create and implement she just learned. Each lesson is only about 1-2 pages and includes images that correspond with each topic.  This curriculum fits in perfectly with our other history activities such as supplemental videos but could definitely stand on its own.  The best part about it is that it's easy to understand, clear, concise, and my oldest (a 10-year-old) was able to read aloud for all of us to enjoy.  Check out the sets below:
The Story of the Thirteen Colonies & the Great Republic Set: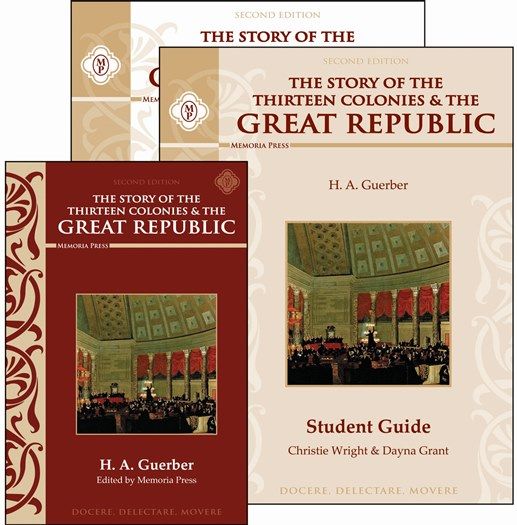 Please note that the Student Books are all intended to be used by one student only. For the American History set, the products complement each other and you can have your student working in both.  Memoria Press was generous enough to send both for us to review.
Be sure to visit Memoria Press on Social Media!  You can find them here:

Facebook:
https://www.facebook.com/memoriapress/
Instagram: 
https://www.instagram.com/memoriapress/
Twitter: 
https://twitter.com/MemoriaPress
  @MemoriaPress
Pinterest: 
https://www.pinterest.com/memoriapress/