Click here to get this post as a PDF and read it later!
Want to travel to Williamsburg, but need to stick to a budget? I'm going to show you how we traveled to Williamsburg for less than $50 per person per day!
You really can travel on a budget even when you want to have the nicest accommodations and amenities! Granted, I could have done this cheaper by picking a less expensive lodging option and leaving out a few things, but because my husband was not able to travel with us, I wanted something safe, reliable, family friendly and centrally located.  I could not be happier with where we stayed.  Below you will find the cost breakdowns and details of our trip.
The total cost of the trip for 3 people at a luxurious resort in Williamsburg: $745
That breaks down to $248 PER PERSON for 5 days & nights.  Less than $50 per person per day.  
1. Lodging:
The total cost of room for 5 nights: $415
I searched Priceline's basic listings for what I was looking for.  Then I went to the Express Deals (save up to 60%) and searched for the SAME AMENITIES in the SAME AREA.  The cool thing about Priceline is that you can usually tell if the specific hotel you are looking for is available as an Express deal.  You just need to make sure your search parameters line up.   In my case, the original search yielded a price of $129 per night for a condo with a full kitchen, which is still a GREAT deal if you ask me since this trip was over Easter weekend.
I went to the Express deals tab and got that same resort for $60 per room.  
Room Subtotal:
$300.00
Hotel Fee1:
$50.00
Paid at the Hotel which includes access to wifi, tennis, golf, activities, indoor and outdoor pools, saunas, hot tubs, volleyball, racquetball courts, and more.
Trip INSURANCE:
$25.00 *optional, but I highly recommend.
Taxes & Fees:
$62.50
Total

Priceline

Charges:
$387.50
Paid in Full
Total Costs including resort fee:
$437.50 *My net cost was $415 because I got 5% cash back.  $415 for 5 nights = $83.00 per night.
After you book your room, THEN you find out where you are staying, which in our case was The Historic Powhatan Resort.  When I went to the site, I was BLOWN AWAY by how beautiful it was and the available activities but then I realized it was a time share resort.  UGH. I got a pit in my stomach thinking I'd have to sit through some 90 minute presentation with my kids.  I didn't though. Here's why.
TIP #1: By booking THROUGH PRICELINE, I had no obligation to sit through any presentation.  Also, here's a tip for you moms traveling without a husband: You are ineligible to even attend a presentation, because you must have 2 adults present.  SCORE!  They did tell me that I could purchase an advance vacation for 3 days at another resort for $149 if my husband and I wanted to go to a presentation but I declined.  I now wish I would have done that, because this place was WORTH a 90 minute presentation. Maybe I'll give them a call and see if I can pick another spot.  There was no pushiness, they smiled and said that's fine.  I was not treated any differently. Keep this in mind the next time you want to book through Groupon or Living Social – try PRICELINE first!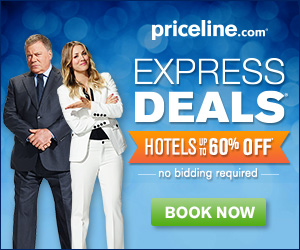 TIP #2: Call and/or email the resort letting them know you are excited to stay with them, have heard wonderful things about their establishment and that YOU WILL BE REVIEWING THEM after your stay.  I think I even gave them my blog address in the signature of my email.  I'm not sure whether this influenced the fact that even though I booked a one bedroom condo, I ended up with the luxury 2 bedroom.  It may have had some weight, and it was the truth, so I'm going to be doing that from now on!
TIP #3:  Email the manager of the hotel and mention that you want to confirm that you will be getting a, b and c.  Sometimes when rooms are booked through Priceline, the hotel reserves the right to give you "leftover" rooms.  If you immediately email to confirm you will be receiving certain accommodations, you will have their response in writing.  Managers are more willing to make SURE you are happy and especially if you mention that you will be reviewing them.
---
2. Gasoline:
Total cost of gas for 2 tanks (about 700 miles) with our Honda Accord Hybrid : $37 
---
3. Food:
Total food costs: $148
---
4. Sightseeing:
Attractions: $115 
Looking back, I wish I would have sprung for the multi-day pass for Williamsburg and a single day pass for Jamestown & Yorktown.  Williamsburg is massive and you can't possibly do it all in one day.  Oh well, now we have a reason to go back! KEEP YOUR TICKETS because most attractions will allow you to trade in your tickets towards new ones if you come back within a year.  That way, you'll only be paying for partial tickets the 2nd time if you are able to visit again.
---
 5. Shopping
I tried to stay away from the stores in the area even though they are PLENTIFUL, because I really didn't NEED anything. We did stop at the Yankee Candle Village Store which was amazing and FREE!  You can spend several hours here and it's great for adults and children.  The store just happened to be hosting a huge celebration when we went.  The girls were able to go on a scavenger hunt through the store, which gave me time to smell all of the candles without them whining about wanting to leave.  Santa was there, you could get free pictures with the Easter bunny, paint your own eggs, stop at the free cotton candy station, dig for dinosaurs, wear bunny ears and more.  The employees were incredibly engaging and made sure the kids were having fun.  I ended up spending money on the tarts so I have to include this in my costs.  If you have more self control, than you could deduct this from your expenses!
---
We really had a WONDERFUL time and enjoyed the beautiful historic triangle of Williamsburg, Jamestown and Yorktown.
The Historic Powhatan Resort threw an Easter party that lasted all day and included a DJ, Easter egg hunt, games, prizes, activities and so much more!
Now give me some advice, where should we go next?
What other tips do you have for saving money when traveling?